Friend.link from Playmates Electronix
by Allison & Diana Richer, age 9, from US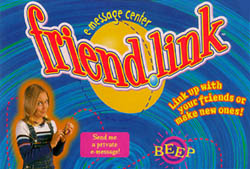 Friend.link is a beeper-sized toy you can use send messages to your friends who also have friend.links. It works as long as you are within 25 feet of each other. You can send a message to a lot of people or just one friend. It comes with a keychain link on it, so you can attach it to your backpack. It shows the time and date and a list of hobbies, so you can put a check next to your favorite hobbies. You can enter passwords for up to 6 friends so that you can send them messages. It also comes with a fortune-telling game, but the answers it gives are kind of lame.

We liked the overall design and the fact that the friend.link is small enough to fit in your pocket. It comes in four color combinations: black & green, yellow & blue, silver & blue, and pink & yellow. We liked some combinations better than others. We liked the message-sending feature, but we didn't like the fact that the space for your message is really limited. We also liked the fact that if you don't have a watch, you can use friend.link to see what time it is. Unlike virtual pets, the friend.link allows you to turn the sound off, which is important if you want to bring it school with you.

We didn't like the fortune-telling game. Also setting the friend.link for the first time was too complicated. Unless you have a bunch of friends who use one, there isn't much point to it, because the only game on it is the fortune-telling game. There is also a "friend-finding" feature that is supposed to help you find other people with the same hobbies as you. We didn't get a chance to try this out, so we can't say how well it works.

Overall, we would only recommend this if you have a group of friends who each get one. If you friends have it, it can be fun. On a grading scale from A to F, we give it a B.